Enabling Collaborative Cybercartography with MapBlender
Proceedings of the 25th AGILE Conference on Geographic Information Science (AGILE'22)
We are excited to share that MapBlender has won the first price in the CyberCartography Competition at AGILE 2022!
Authors
Marius Hogräfer
Jens Emil Grønbæk
Jana Puschmann
Sebastian Krog Knudsen
Hans-Jörg Schulz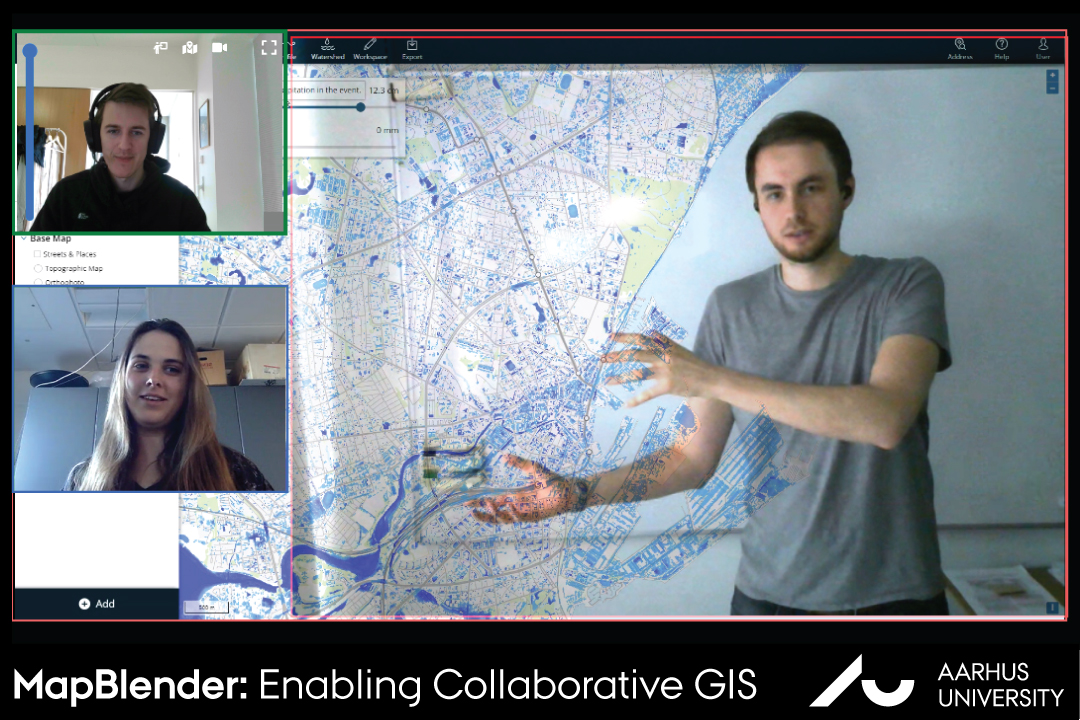 Abstract
One of the challenges that GIS users in diverse, distributed teams face these days is being able to efficiently collaborate, both across workspaces and tools. To that end, we present MapBlender, a cybercartographic application that fosters geocollaboration by adapting a collaboration-first approach, placing users and their GIS tools on equal footing. MapBlender allows all connected users to share video feeds of their GIS tools and webcams, which can then be freely rearranged and re-sized, adopting simple and familiar interaction techniques from modern window managers. In addition, the rendering and translucency of these feeds can be adjusted, allowing users to align and analyze information across tools. We demonstrate the utility of MapBlender in a hybrid teaching scenario, wherein a representative of a software company uses our application to instruct co-located and remote learners from another company on the features of their GIS tool.
MapBlender is publicly available under open source licenses and runs in the browser, with no local installation necessary. Thus, with MapBlender in place, one of our goals is to promote an HCI perspective on future work in geocollaboration.
Citation in BibTeX
To cite this article, we encourage you to use the following bibtex entry in your citation manager:

@inproceedings{Hograefer2022_mapblender,
  title     = {Enabling Collaborative Cybercartography with {MapBlender}},
  author    = {Hogr\"afer, Marius and Gr\o{}nb\ae{}k, Jens Emil and Puschmann, Jana and
               Knudsen, Sebastian Krog and Schulz, Hans-J\"org},
  booktitle = {Proceedings of the 25th AGILE Conference on Geographic Information
               Science (AGILE'22)},
  year      = {2022},
  pages     = {37:1--37:6}
  editor    = {Parseliunas, Eimuntas and Mansourian, Ali and Partsinevelos, Panagiotis and
               Suziedelyte-Visockiene, Jurate},
  publisher = {Copernicus Publications},
  doi       = {10.5194/agile-giss-3-37-2022}
}